Simply Coding Summer Camps 2017!
Join us for the Best Summer Coding Camps in Utah! Students will learn to code from great mentors in the real programming environment.  This is a step above Scratch, Code.org, Lego Mindstorm and other block coding programs. They will get to write all the code themselves starting with a blank file!
Coding camps are for youth ages 11+
Students keep all their code and online course access forever
$99 / camp
Computers are provided at location, students can bring their own laptop.
Be prepared to save your work! Bring an USB drive or have access to Google Drive
Best Summer Coding Camps in Utah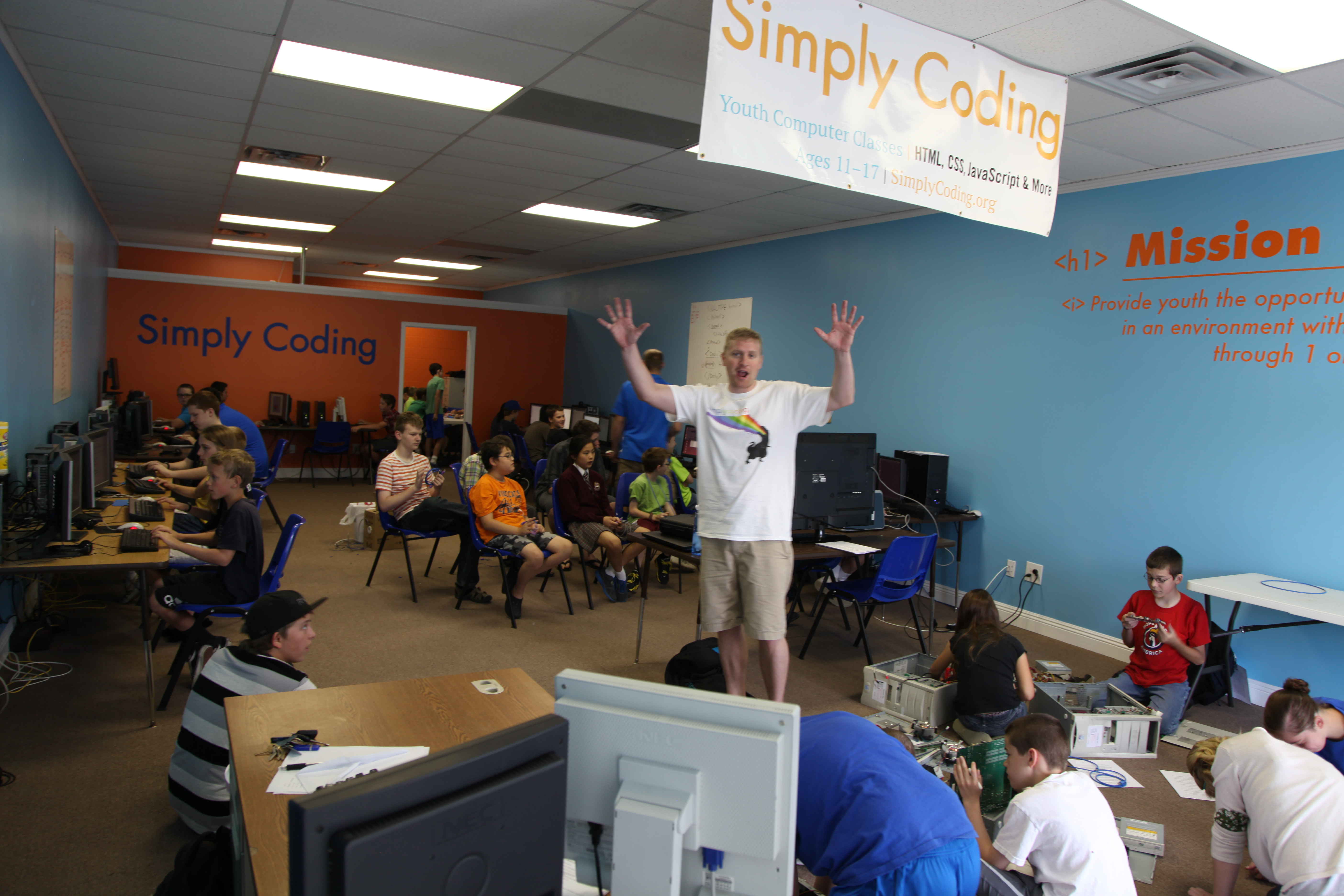 JavaScript Game Design:
Students will learn JavaScript by coding three different browser games.  They will be using a text editor called Sublime Text to write all their code.  They will learn:
How to create objects and have them appear on the screen
Edit images and create gifs for their games
Control objects on the screen with the keyboard
Collision detection
If statements, arrays, for loops and event listeners
Upload Games live to the web using GitHub!
Minecraft Mods in Java:
Students will learn how to create their own Java files and add them to the popular game Minecraft.  They will be using eclipse to code their Java classes in.  No minecraft account is needed! They will learn:
The structure of Java, including classes, methods & constructors
How to create new items, blocks, tools, armor, weapons, mobs and much more.
How to add your new code to Minecraft
How to package Java files into Jars for other people to use!
Why Do These Camps?
Our Goal is to expose youth to code in its real environment with great teachers.  Coding is a lot of fun and become very necessary to learn, especially the basics. They will learn how to code.  Not only do we teach students how to code, but also how to upload it live online to share.  This online portfolio of their code will be very beneficial as they apply for internships and college! See example online portfolio here!
| BUILDING LOCATION | CITY/STATE | DATE | TIME | CAMP COURSE | REGISTRATION |
| --- | --- | --- | --- | --- | --- |
| Freedom Academy | Provo, UT | June 5th – 9th | 10am – 12pm | Javascript Game Design | |
| Ascent Academy | Lehi, UT | June 19th – 23rd | 10am – 12pm | Javascript Game Design | |
| Providence Hall Academy (2 camps) | Herriman, Ut | June 5th – 9th ——————– June 12th – 16th | 9am – 11am | JavaScript Game Design ——————– Minecraft Mods in Java | |
| Lakeview Academy (2 camps) | Saratoga Springs | June 19th – June 23rd ——————- June 26th – June 30th | 10am – 12pm ——————- 10am – 12pm | Minecraft Mods in Java ——————- JavaScript Game Design | |
| Summit Academy High School (2 camps) | Bluffdale, UT | June 5th – June 9th ——————- June 12th – June 16th | 10am – 12pm ——————- 10am – 12pm | JavaScript Game Design ——————- Coding in Java! | |
| Summit Academy Draper Middle School (2 camps) | Draper, UT | June 19th – June 23rd ——————- June 26th – June 30th | 10am – 12pm ——————- 10am – 12pm | JavaScript Game Design ——————- Minecraft Mods in Java! | |
| Utah Valley University (UVU) | Orem, UT | Multiple Dates | Varies by Camp | Multiple Camp Options | |
| Weber State | Ogden, UT | Multiple Dates | Varies by Camp | Multiple Camp Options | |